In association with the exhibition Fiona Tan: Coming Home
Sherman Contemporary Art Foundation,
in partnership with Sydney Writers' Festival, is honoured to present
Internationally acclaimed writer and historian,
William Dalrymple 
Thursday, 20 May 2010
6.30 pm
William shall be discussing his novels, My Journeys in Xanadu and Along the Silk Road.

RSVP essential
Thursday, 13 May 2010
info@sherman-scaf.org.au or 9331 1112
Seating is strictly limited. Book early to reserve your seat.
_____________________________________________________________________________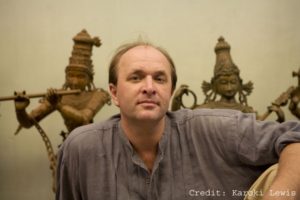 William Dalrymple was born in Scotland and brought up on the shores of the Firth of Forth. He wrote the highly acclaimed bestseller In Xanadu when he was twenty-two. City of Djinns won the Thomas Cook Travel Book Award and the Sunday Times Young British Writer of the Year Award. The Age of Kali won the French Prix d'Astrolabe and White Mughals won the Wolfson Prize for History 2003 and the Scottish Book of the Year Prize. The Last Mughal was longlisted for the BBC Four Samuel Johnson Prize and won the Duff Cooper Memorial Prize. He lives with his wife and three children on a farm outside Dehli.William will be signing copies of his latest book, Nine Lives, which will be available to purchase on the night.
William will also host the Sydney Writers' Festival's performance of Nine Lives: An Evening of South Asian Sacred Music and Spiritual Transformation at the Sydney Opera House Concert Hall on Wednesday 19 May. For bookings please contact the Sydney Opera House Box Office – 02 9250 7777
In Xanadu
At the age of twenty-two, William Dalrymple left his college in Cambridge to travel to the ruins of Kublai Khan's stately pleasure dome in Xanadu. This is an account of a quest which took him and his companions across the width of Asia, along dusty, forgotten roads, through villages and cities full of unexpected hospitality and wildly improbable escapades, to Coleridge's Xanadu itself. At once funny and knowledgeable, In Xanadu is in the finest tradition of British travel writing. Told with an exhilarating blend of eloquence, wit, poetry and delight, it is already established as a classic of its kind.