In association with Collection+: Greg Semu,
Sherman Contemporary Art Foundation presents
Samoan Weaving workshop
with 

Maureen Unasa
A self-taught weaver, Maureen Unasa fuses traditional weaving techniques in her contemporary practice. In this workshop, participants will have the opportunity to weave a small basket or a two-corner bag from natural pandanus leaves (laufala), sourced and prepared in Samoa.
Saturday, 3 December 2016
11am – 12.30pm
$15 per participant
Recommended for all ages
Bookings essential / limited numbers
Please pay prior to workshop to secure your place
02 9331 1112 or bookings@sherman-scaf.org.au

---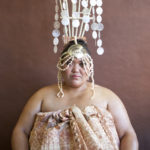 Maureen Unasa is a contemporary artist who was born in Samoa, raised in New Zealand and now lives in Australia. Her rich cultural background informs the unique way she sees the world and has allowed her to explore life through a creative lens.
With the assistance of a progressive and committed not-for-profit organisation Global Sisters, Maureen is growing her social enterprise and business Samoan Weaving HQ (SWHQ). SWHQ has enabled Maureen to provide Samoan communities with the opportunity to earn an income from their woven objects.
Using traditional weaving practices, Maureen specialises in contemporary pieces such as wedding decorations, costume jewellery and wall hangings, using a mixture of natural fibres and modern materials. Maureen's line of garments weaved from vinyl, fabric and satin ribbon was debuted at this year's Pacific Runway at Carriageworks.
Maureen's creative journey continues with the support of Thomas Acres Public School, the NSW Council for Pacific Communities and WeAve Parramatta (a creative initiative of Parramatta City Council).
Portrait Photo: Maylei Hunt