Please note: An unexpected personal emergency has meant that author and speaker Dr Judith Stein has had to turn back home mid journey to Australia.
We hope to reschedule her Eye of the Sixties presentation as soon as circumstances permit. Apologies for the truly unavoidable late notice.
With best wishes,
The SCAF Team
In association with The inventive work of Shigeru Ban,
Sherman Contemporary Art Foundation presents
Eye of the Sixties
an illustrated talk with Dr Judith Stein
Journey back to the early sixties, to the beginning of the market for contemporary art, when the art dealer Dick Bellamy made history but chose not to make money. Bellamy launched the careers of Pop, Op and conceptual artists, mavericks and minimalists, artists such as Donald Judd, Dan Flavin, Mark di Suvero and Lucas Samaras. The story of Dick Bellamy, a beatnik with a legendary eye, unfolds as postmodernism elbowed the past aside.
Based on decades of research and on hundreds of interviews with Bellamy's artists, friends, colleagues, and lovers, Judith Stein's Eye of the Sixties recovers the lost history of the elusive art dealer.
Thursday 20 April, 2017
6–8 pm
Sherman Contemporary Art Foundation
16-20 Goodhope Street
Paddington NSW 2021
RSVP via eventbrite
or 02 9331 1112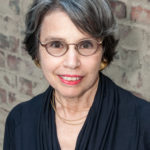 Dr Judith Stein is a writer and curator specialising in postwar American art. Her biography, Eye of the Sixties, Richard Bellamy and the Transformation of Modern Art (Farrar, Straus & Giroux, 2016) earned the Athenaeum Literary Award. Her exhibitions for the Pennsylvania Academy of the Fine Arts include The Figurative Fifties: New York Figurative Expressionism, and I Tell My Heart, The Art of Horace Pippin. A long-time contributor to Art in America, she is a former arts reviewer for National Public Radio's Fresh Air. She is the recipient of a Pew Fellowship in the Arts in literary nonfiction, a Creative Capital/Andy Warhol Foundation Arts Writers Grant, and a Lannan Residency Fellowship, Marfa, Texas.
Photograph: Richard Bellamy, c. 1966
Stephanie Chrisman Duran