In association with The inventive work of Shigeru Ban,
Sherman Contemporary Art Foundation presents
Ceramic Kintsugi Workshop
with Keiko Matsui
Kintsugi celebrates broken ceramic pieces by mending them with lacquer and gold or silver powder without hiding these repairs. Join us for a fun and hands-on workshop with Japanese ceramic artist, Keiko Matsui. You'll learn some basics about ceramics and kintsugi techniques before mending and restoring your own ceramic piece. No previous experience with ceramics necessary.
Saturday 13 May, 2017
11am – 1pm
Sherman Contemporary Art Foundation
16-20 Goodhope Street
Paddington
$30 per participant

Bookings essential / limited numbers
Please pay prior to workshop to secure your place
02 9331 1112 or bookings@sherman-scaf.org.au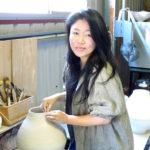 Keiko Matsui, a Japanese born, Central Coast based ceramic artist, works in porcelain and creates functional and non-functional objects. Keiko moved to Australia in 1999 and completed a Bachelor of Fine Art (Honours) degree in 2006 at the National Art School in Sydney. Her work begins on the potter's wheel and is then manipulated, cut and reassembled to evoke a quiet, subtle and abstract aesthetic. Making and reinterpreting objects is her focus. She pays particular attention to the form and proportion, the profile or outline of a vessel and the interconnectedness between the interior and exterior.
Directly stemming from Keiko's Japanese heritage and familiarity with the mending and restoring technique known as Kintsugi, her current work explores the altering and reforming of fine porcelain forms through the cutting and rejoining of sections. Keiko's work is made from fine porcelain. It is extremely sensitive and responsive to human touch when soft. When fired, the work becomes translucent and strong.
Photo: Greg Piper