In association with The inventive work of Shigeru Ban,
Sherman Contemporary Art Foundation presents
Art & Architecture Archives




with Prof. Harriet Edquist
Today, archives of art and architecture are understood not as neutral repositories of data and facts to be activated by technology but as vital actors in the production of knowledge.
In this illustrated talk, Prof. Harriet Edquist will survey some of the issues that surround the ever-expanding idea of the archive, with examples ranging from the highly structured architectural archive of John Soane to the participatory and community-oriented archive models advocated by contemporary museology.
Thursday 15 June, 2017
6–8 pm
Sherman Contemporary Art Foundation
16-20 Goodhope Street
Paddington NSW 2021
RSVP via eventbrite
or 02 9331 1112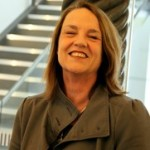 Harriet Edquist is Professor of Architectural History at RMIT and Foundation Director of the RMIT Design Archives. A past President of the Society of Architectural Historians Australia and New Zealand, Harriet was Head of the School of Architecture and Design at RMIT from 2001 to 2007. Active in the architectural community for many years, Harriet is an Honorary Fellow of the Royal Australian Institute of Architects and a Fellow of the Australian Academy of the Humanities. In 2015 she was appointed inaugural President of Automotive Historians Australia Inc.
An author and curator, Harriet's research includes Australian art, design and architectural history situated within a global setting. Recent titles include Shifting Gear: Design, Innovation and the Australian Car (2015), Michael O'Connell. The lost modernist (2011), George Baldessin: Paradox and Persuasion (2009), and Pioneers of Modernism: the Arts and Crafts Movement in Australia (2008). Her exhibitions include Shifting Gear: Design, Innovation and the Australian Car (NGV), The Lost Modernist: Michael O'Connell (Bendigo Art Gallery) and Free, secular and democratic: building the Public Library 1853-1913 (Murdoch Gallery SLV).
As Director of the RMIT Design Archives, Harriet oversees the collection, preservation and dissemination of archival material relating to Melbourne design practices including architecture, automotive design, communication design, fashion, textiles and industrial design.