In association with Jompet Kuswidananto: After Voices,
Sherman Contemporary Art Foundation proudly presents

Parades, Performance and Pandemonium 
A Culture 4 Kids creative workshop led by Lilly Blue, Creative Director, BIG Kids Magazine.
Through theatre games, collaborative invention, art making and installation, participants will engage with and respond to SCAF's immersive installation, After Voices.
Saturday, 13 August 2016
11am – 1pm
$15 per participant
Recommended for ages 9 to 12
Bookings essential / limited numbers
Please pay prior to workshop to secure your place
02 9331 1112 or bookings@sherman-scaf.org.au
* This workshop will be documented and made into a short film. 
---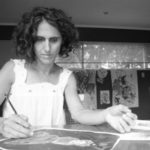 Lilly Blue is a visual artist and educator with a background in physical performance, installation and community arts. She has worked internationally delivering arts residencies, professional development programs, creative commissions and exhibitions, as well as designing arts programming for young audiences. She is currently Creative Learning Consultant with Sydney Opera House and The Red Room Company. Together with dancer/writer Joanna Pollitt she is the Creative Director, Curator and Maker of BIG Kids Magazine, an Australian contemporary arts publication that features the work of children and artists side by side and promotes the arts as an everyday way of seeing and responding to the world.